Fire20 Softwash - Soft Wash and Pressure Washing
We use low pressure pumps to apply a mixture of 100% biodegradable mildewcides, algaecides, and soaps (blended for your particular needs) to safely and effectively remove mold, mildew, algae, moss, and airborne contaminants from your home's exterior.
We use eco-friendly cleaning methods and we take great care to pre-soak or cover all plants as needed, so you don't have to worry about damage to your vegetation or plant loss.
Soft washing
Soft Washing is more than just cleaning and beautifying. Soft Washing saves you money by preventing damage caused mold, mildew and wood rot, and prolonging the life of your siding, roof, deck, masonry, and more. It also improves your home's curb appeal!
Soft washing treats the problem as a pest, not a stain. Our three-in-one process removes building stains, "like mold, mildew, dirt and grime", eradicates the spores and protects against further infestation by leaving behind a residual barrier to inhibit airborne spores from growing.
Power Washing
When utilized by skilled and licensed experts, power washing can be an additional reliable kind of cleansing your home or business' exterior. Power washing could be beneficial for pre-paint preparation, standard cleansing on strong surface areas, as well as removing surfaces down to basic elements.
Get rid of awful staining or black streaks from your roofing to enhance your house's look, extend the life of your roof covering, and increase wellness advantages for your family by removing allergic reaction to irritants bordering your home.
Just like your roofing system, your residence's outside wall surfaces can end up being discolored. With soft washing, your paint shades sharpen, garage doors glow, and also window and doorframes radiate.
CONCRETE & BRICK CLEANING
Raise your aesthetic allure by eliminating the dust, dirt, rust, grime, grease, oil as well as various other kinds of discolorations that could develop on your sidewalk, concrete driveway, patio, pool deck or porch.
Our technicians are certified and highly trained in high-end estate homes, residential and commercial properties. Our Pure water system is environmentally friendly and keeps your windows spotless. It removes cobwebs, and repels pollen, dirt and dust. This was formula keeps your windows clean for twice as long. We use low pressure to deliver our solution, which has a waxing agent to make them really pop when we're done.
Whether your driveway is concrete, brick, or rock, it might still be susceptible to the very same black or green dirt, mold, and mildew that could be discovered on various other surface areas or your house. Cleaning your driveway routinely is a great method to increase curb appeal and reduce the quantity of dust entering your residence.
We strive to help you get the most out of your investment. Solar Panel Cleaning is key to their continued operation. Dirt and grime can reduce efficiencies of solar power system by almost 20%. Routine maintenance softwashing keeps your panels producing all year long. We take pride in eliminating the hassle and insuring the job is done correctly the first time. There are plenty of benefits from having your solar panels professionally cleaned so do not hesitate to contact us today!
Sunlight exposure and also weather take a toll on your fence. Bring your fencing back to its original magnificence with our specialized cleaning procedure, which works with all types of fencings including wood, vinyl, brick, or synthetic. An excellent cleaning with the right method will certainly have you thankful you didn't get it replaced.
SCREEN ENCLOSURE CLEANING
Screen enclosures permit you to bring the outdoors in without worrying about insects as well as various other pests entering, however they could certainly come to be dirty with the build-up of dust, dirt, plants and pests. Get your screen enclosure back to its peak efficiency and also look.
While numerous composite deck and also outdoor patio brand names promote being "maintenance-free", they certainly start to accumulate dirt, gunk, algae, and also mold and mildew on the surface. The same could be claimed for other product patio areas or decks, such as wood or concrete. Wash away that accumulation as well as get your patio or deck back to pristine condition so you could return to appreciating it.
Awnings and also shades are extremely prone to collecting dust, germs and algae as a result of their material and also weather condition direct exposure. A correct cleaning could bring your awning back to life whether it is vinyl, fabric, metal, or one more type of material.
Clean gutters make sure that water is carried far from your residence, avoiding it from gathering around its foundation, possibly causing damage or permeating within.
Soft washing is the alternative to pressure washing. It utilizes water-based, naturally degradable chemicals that emulsify dirt and crud, in addition to kills mold, mildew, algae and bacteria -- sanitizing the surface. Soft washing uses only one-third the water of power washing, lasts 4 to 6 times longer and doesn't deteriorate the surface, like power washing commonly can.
Constant foot and vehicle traffic tends to cause a buildup of dirt, rubber, grease, oil, and fuel and may cause your guests to get the wrong impression of your establishment. If your parking lots or structures have started looking a little darker and dingier lately, the professionals at Fire 20 Softwash are ready to help brighten things up with professional pressure washing services.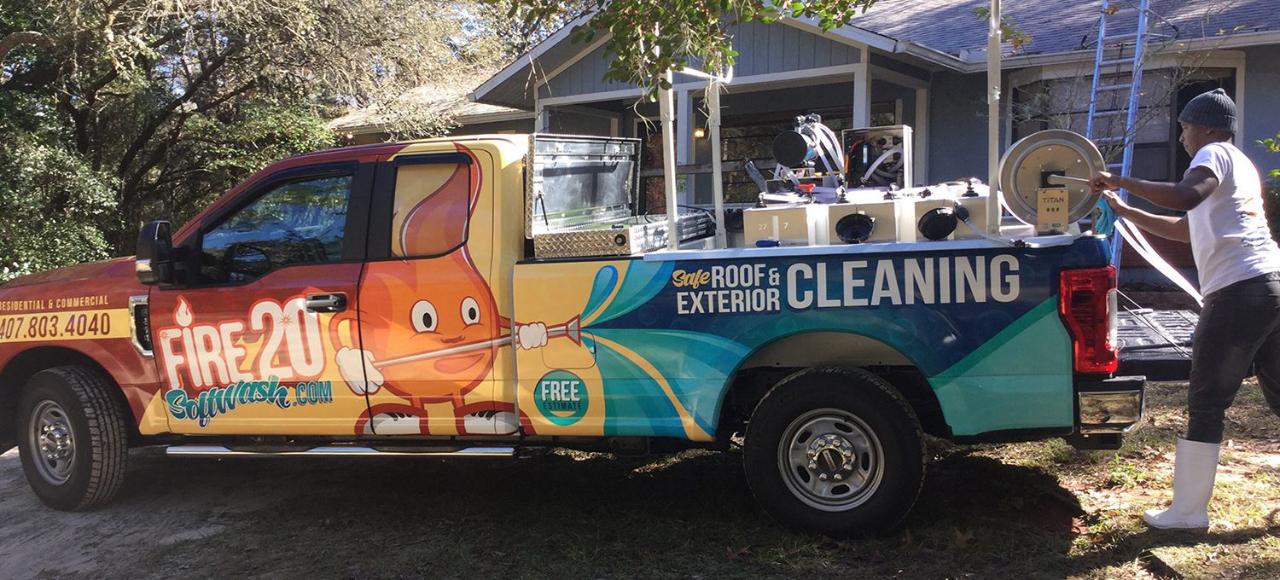 Get Started with an online request and we'll be in contact with you shortly. We'll be able to answer all of your questions and provide a free quote. Also, please feel free to review our privacy policy. Thank you, and we look forward to talking with you.