LICENSED & INSURED TECHNICIANS
We have expertly trained, fully insured specialists who will arrive on time in our branded, company trucks with the right tools to restore your property back to its original beauty.
Fire20 Softwash is a locally owned company established for the sole purpose of helping homeowners, multi-family complexes and commercial businesses clean their roofs, building exteriors, pavers, driveways, pool decks, screen enclosures, and more. We do this safely and without damaging surfaces by using chemicals instead of pressure.
For instance, we use the same amount of pressure that comes out of the hose in your backyard - approximately 45-75 psi, as opposed to pressure washing at approximately 3500-4500 psi. We don't have to apply any pressure because the chemicals do all the work. This provides for a 100% kill ratio.
Our pricing is very upfront and the results last 3-5 times longer; for this reason, it costs much more. Mold, mildew, algae, fungus, and lichen are plant-based bacteria. Fire20 Softwash kills the root of the plant, where pressure washing tends to spread the spores of the plant. When the spores spread out, the have the potential to come back more quickly, and the high pressure used can damage the surface of the materials that are being cleaned.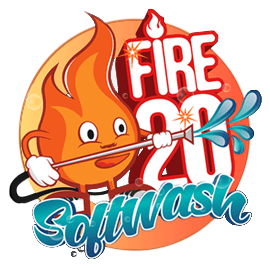 ENVIRONMENTALLY FRIENDLY CLEANING
We began our business in 2018, and we are extremely proud of the fact that the soap and chemicals we use are 100% biodegradable and are gone within 20 days.
One of the concerns people naturally have is that the chemicals used in exterior cleaning will harm their plants. We take care of this ahead of time by rinsing each plant before we start, thoroughly soaking the ground in the process. We do this again immediately upon finishing the job. Finally, we place a plant fortifier on any flowering plants, which helps bring nutrients to the plants to protect them.
When you require professional outdoor cleaning services, you can trust and depend on us to do the job right. You can rely on Fire20 Softwash.We take care of your home and your property like it is our own, because we care about our reputation. We want to be the company you refer to your friends, relatives and colleagues.
We look forward to working with you soon!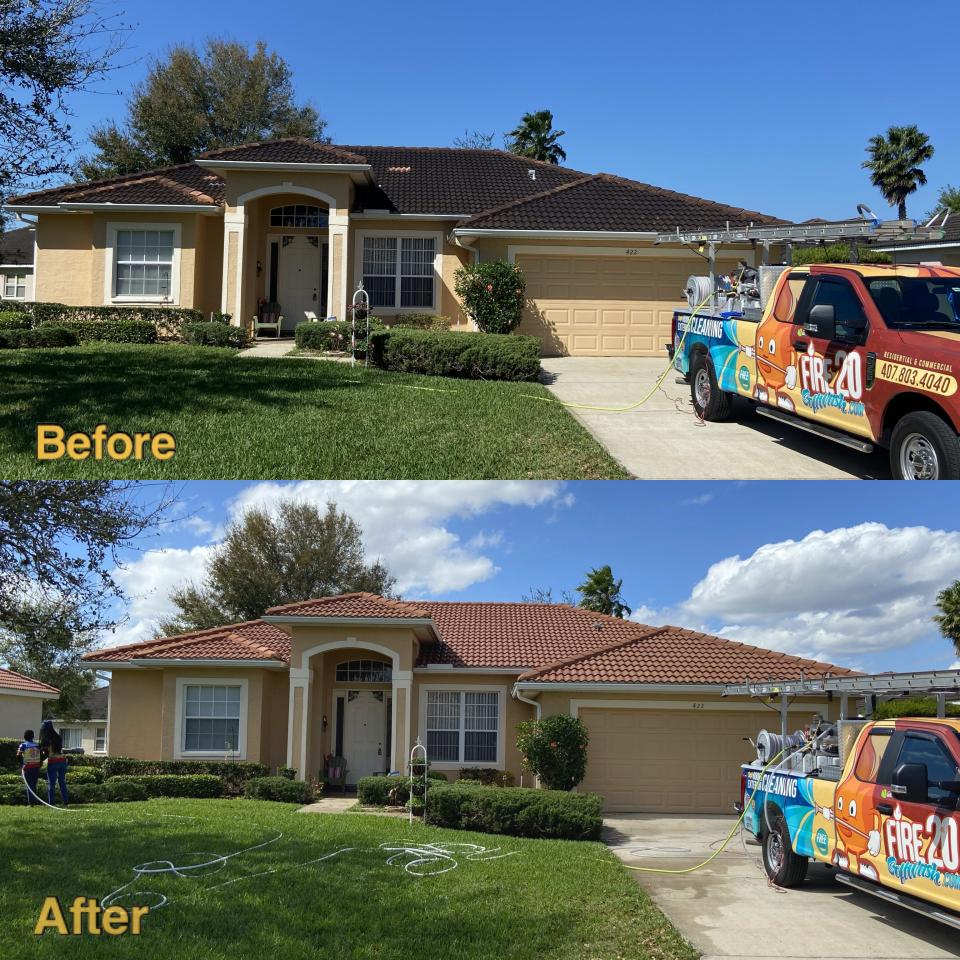 FIRE20 SOFTWASH - A COMPANY YOU CAN COUNT ON
Do not risk hiring just anyone. The safety and security of your family and your home is crucial to Fire20 Softwash. That's why we are licensed and insured. We perform criminal background checks on every technician we dispatch to your home or place of business. We want you to trust that our staff is reputable, and that we care about your safety on all levels. We are the company you count on.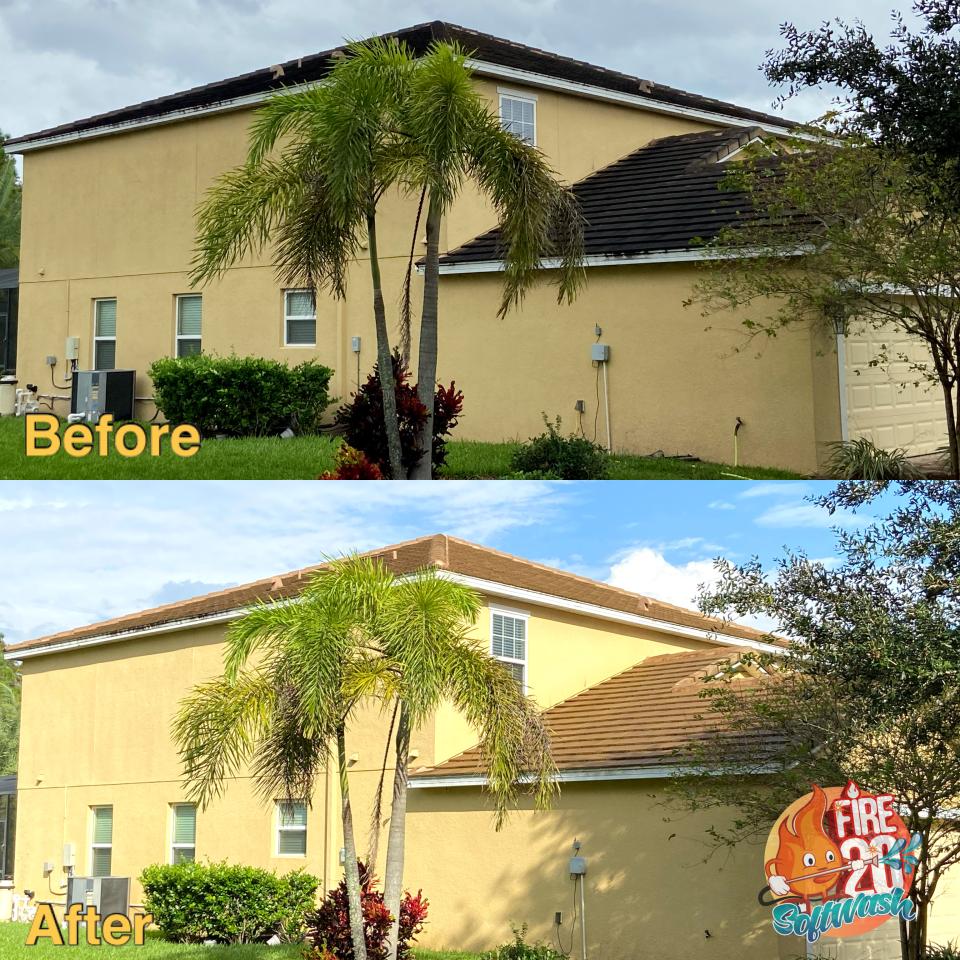 WE CARE ABOUT YOUR PROPERTY & THE ENVIRONMENT
We believe that we are stewards of the resources we're entrusted with, including the land, water and air surrounding your house and worldwide.
Here are a few methods that show how our cleaning technologies are environmentally friendlier than the other techniques:
Water Conservation – Softwashing uses roughly 1/3 of the amount of water used in pressure washing
We use water-based, biodegradable products
Low VOC (air irritants)
Limited or No Use of Fossil Fuels
We have 12 Volt & Solar Powered Electric Equipment
Longer Lasting Results = Less Consumed and Less Wasted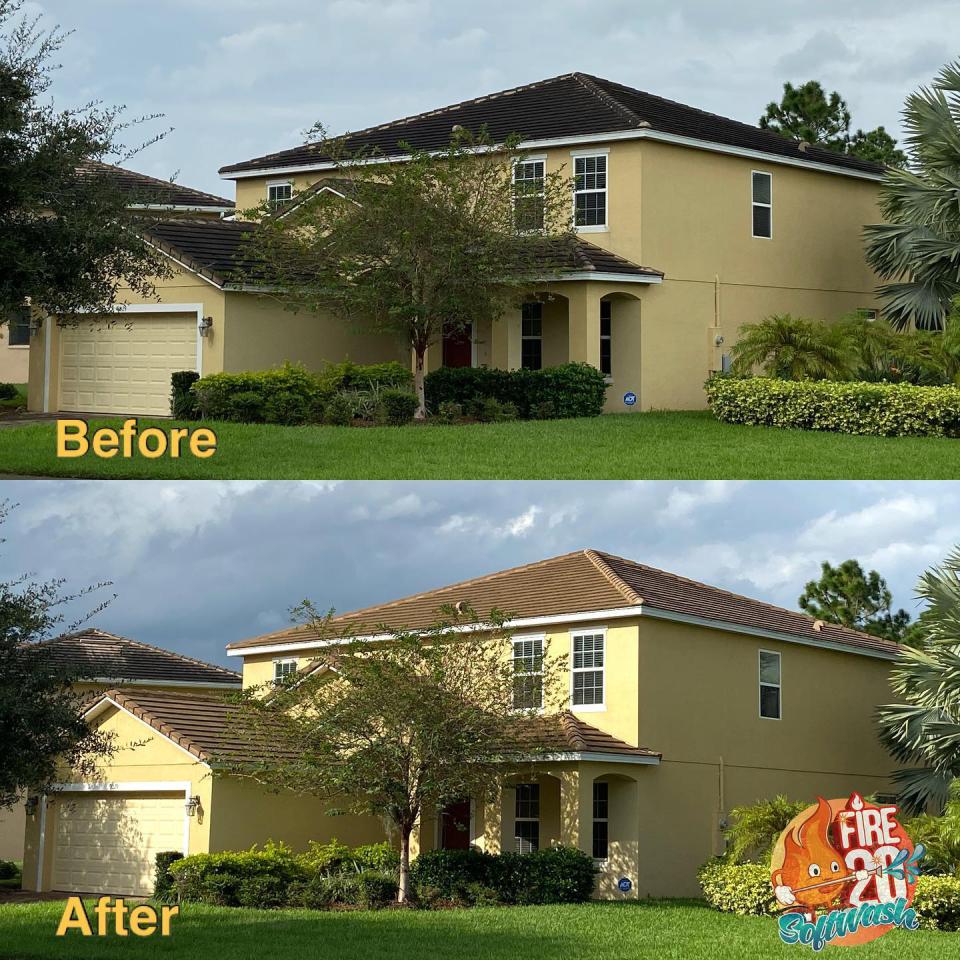 Fire20 Softwash 5 year Spot-Free Roof Warranty
Warranty vs Guarantee
When a company offers a guarantee, they are promising that what you're buying is what you're getting. Every company should be offering a guarantee! That we offer in addition to a 100% Satisfaction Guarantee is a 5-Year Spot-Free Roof Warranty. We stand by our services long after we leave so you're not only happy today, but you'll be happy tomorrow as well. We stake our reputation on it.
Terms
Fire20 Softwash will provide the service of a full roof cleaning (no partial cleanings will be warrantied) necessary to maintain a spot-free absence of dark molds and mildews from the client's roof for a period of 12 months from the original date of cleaning. For years 2 through 5, Fire20 Softwash will treat whole or in part any areas of recurring dark molds or mildews with the contractor paying the first 50% of the original quoted price, and the property owner paying a prorated amount of 50%, before discounts. An entire retreatment will be prorated against the original quoted retail price of the roof cleaning from the original date of cleaning. Smaller areas of staining, less than 25% of the total area of the roof, will be pro-rated from the current hourly charge for service.
Conditions
This warranty covers shingle, concrete tile, clay tile, slate, asbestos and composite roofs that are of the proper pitch with no water pooling on the roofs surface. Fire20 Softwash roof cleaning process is safe for your roof. If any damage is caused to your roof by our personnel, or our process or the chemicals in our process, Fire20 Softwash will repair or replace your roof, at its option.
This warranty does not cover new or replacement roofing not originally treated by Fire20 Softwash, areas under or around roof-mounted apparatus or Acts of God determined by local area. It is the customer's responsibility to keep the roof free from debris, as well as tree limbs trimmed away at least eight feet from the roof surface. Green Mustard Algae is not covered for retreatment.
Transferable
Your warranty is 100% transferable to any new homeowners so long as they have a copy of the service receipt. A white estimate copy is not a valid substitute.